Indoor Tavel slipper in denim fabric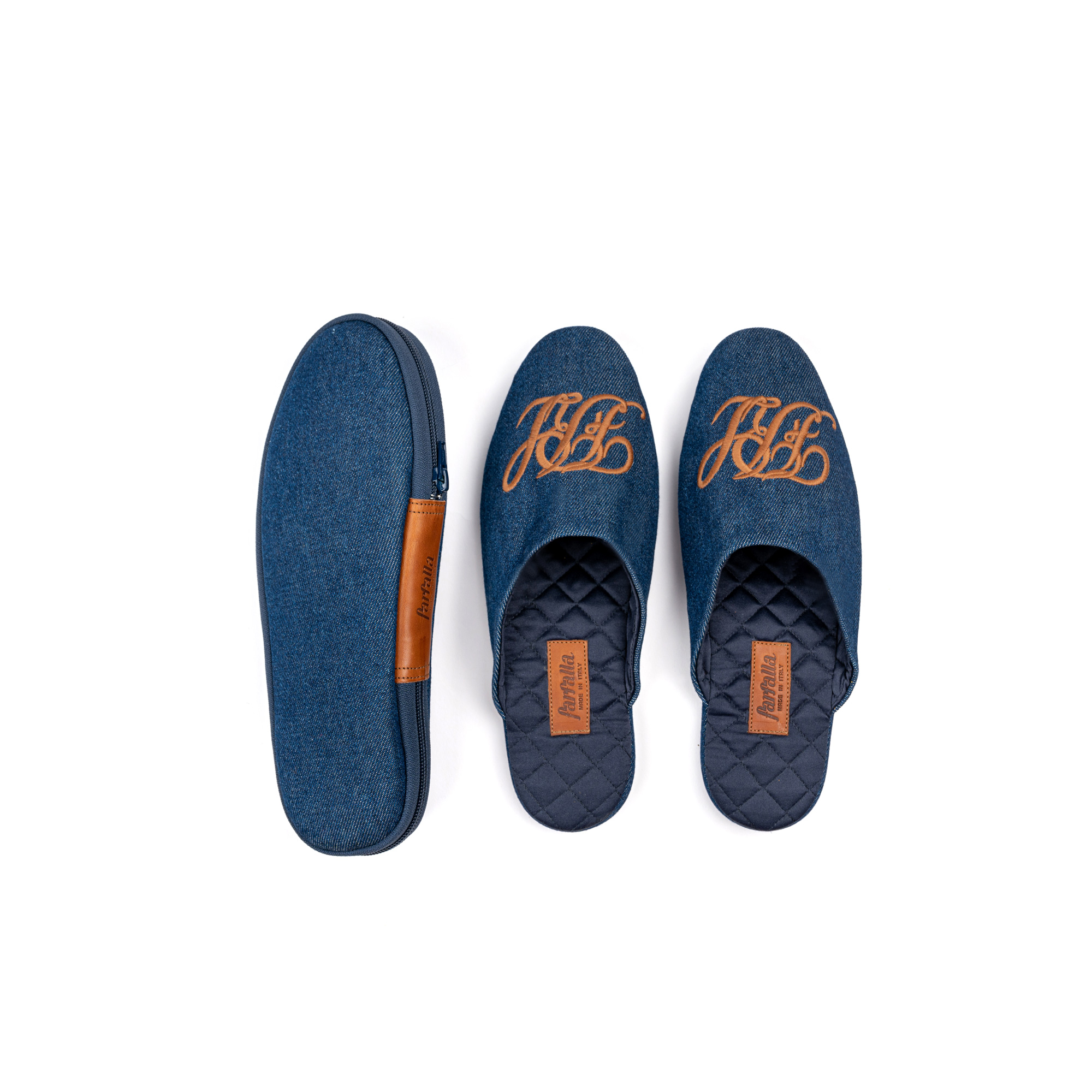 Are you looking for a youthful slipper to take with you when you are not at home? Close your suitcase without worries: the Farfalla denim Travel model is just right for you. In one single pair, we combined refinement and comfort, for those who always want to feel up to date with fashion and also know the immense value of a moment of relaxation. Especially on vacation, these qualities make a difference. The classic complimentary slippers in hotels are too thin and hard to comfort your feet when wearing them. And, in terms of style, they are anything but unforgettable. For us at Farfalla, however, a sophisticated wardrobe is important even when you are away from home.
Footwear should be a pleasant and comfortable experience in any situation. This is the belief that has driven us to make handcrafted slippers for over a century, with the same method as in the past. After a careful study of the shapes and painstaking work on the details and seams, indoor travel slippers in denim fabric fully reflect our idea of good taste. In perfect Farfalla style: refined, charming, and cheeky enough. Especially thanks to the peculiarities of the denim fabric: appropriate in every situation and pleasant on the skin. Perfect when paired with an indoor outfit, the slippers will amaze you under trousers for a carefree (and very comfortable) drink at the hotel.
The great advantage of this type of model is its extreme practicality without compromise. At first, the padded insole welcomes your feet into a world of ease and softness. The jeans fabric cover takes care of your feet with warmth so that they can relax after a busy day and forget the heaviness of having to stand for many hours. For an adventure full of elegance, never leave without the Farfalla's indoor Travel slippers in blue denim fabric. Discover the world, one comfortable (very comfortable) step at a time.