Indoor luxury closed slipper in crocodile printed leather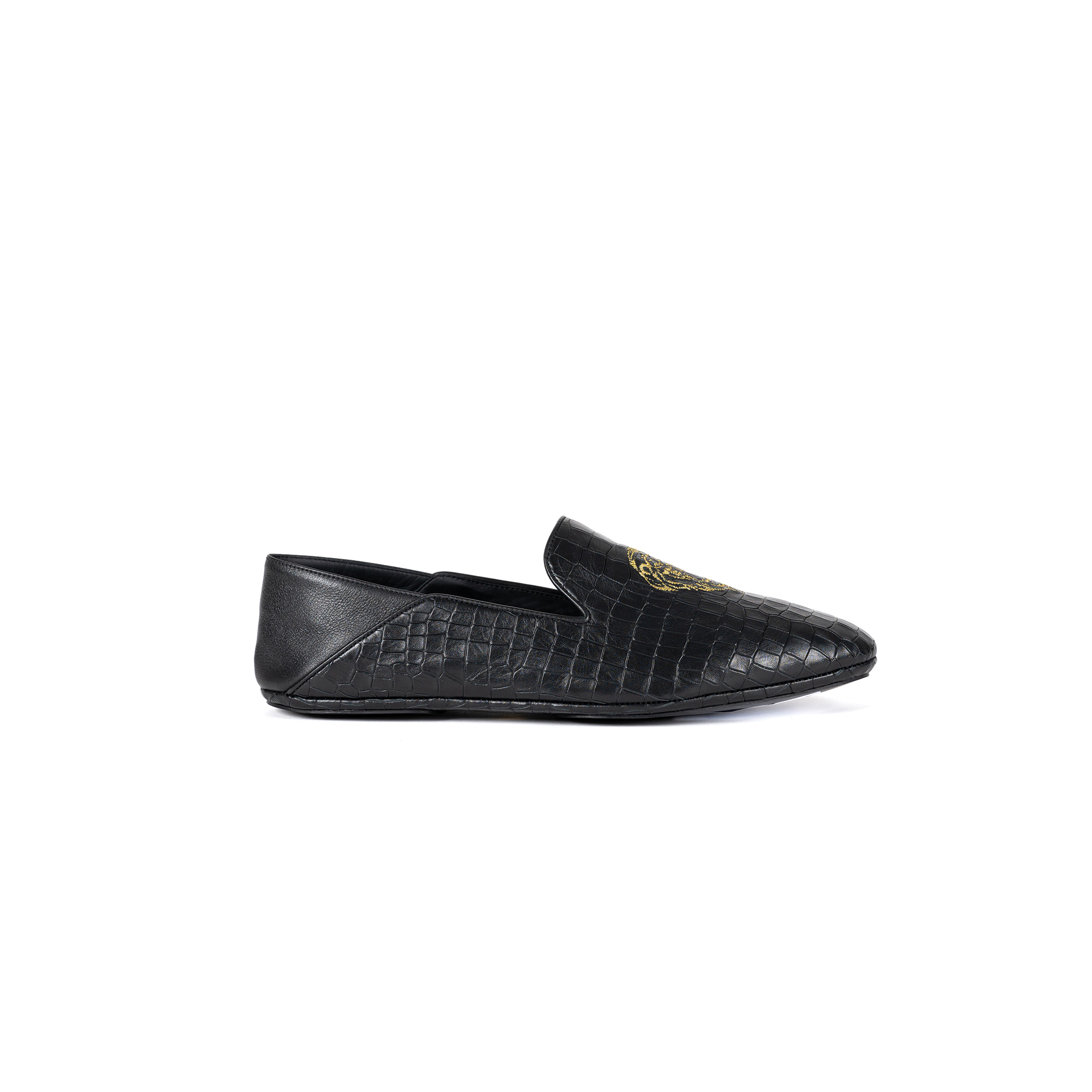 The fanciful clutch bag contains a precious treasure that you can't wait to wear: the closed Farfalla black crocodile printed leather slipper. Speaking of refined rest footwear, the Elegance collection reaches the pinnacle of the class that Italian tradition has accustomed you to. The dedication to creating unique and unparalleled models, the exploration of the world through fabrics, and the wise love for attention to detail describe the character of each of our slippers. Farfalla is synonymous with style and this closed model represents unbridled luxury to wear whenever you want.
With a closed and tapered design, the glance is guaranteed. In a veiled way, it reminds of the typical oriental slippers, leaving you to dream of exotic landscapes and magical atmospheres. A style that in terms of personality has nothing to envy other accessories such as jewelry and glasses. The pomp, this time, is at your feet and enriches every combination that satisfies your taste and your mood of the moment. A refined garment will be exalted next to the Farfalla black crocodile printed leather slipper, sewing on you a princely look to show off on special occasions. Not only: even a sporty fabric can match perfectly to give you an elegant tone and transform an everyday home outfit into an elegant dress beyond imagination.
If luxury means sensual lines and fabric to caress, comfort is just as fabulous. Easy to put on, you will never want to do without the feeling of leather on your skin. Try them and fall in love: step by step the soft rubberized sole accompanies your every move for a triumph of unparalleled style. Perfect as a gift, magnificent for you: The Farfalla closed slipper in black crocodile printed leather will bewitch you.